By Brian Grimmett
"We want to keep life interesting and keep hearing sounds that haven't been made yet – we want to see how people will push the frontier of what we have yet to hear." Momentive Recordings, headed by Chief Jesta, has tirelessly worked to bring the deeper side of the drum and bass spectrum to Los Angeles, spearheading events that brought together local and international artists of this style as well as launching a platform to deliver the music to the masses.  And now they are bringing out one of the most revered talents of that very style to LA at last: Monty. His productions are hailed for everything from their structure, to the sound design, and even his ability to produce in different styles. The story that has led to this collaboration between Momentive and this icon of the deep & dark is an interesting one. 
It all began with an intriguing concept. "Noise Revolt was our original universal brand that I founded in 2013," says Jesta. "As we worked over the years and snowballed what Noise Revolt was, our long term vision was for it to splinter into subgenres: the main night was a watering hole for the genres to come together and promote the cross pollination of all those cultures. Momentive was one of, if not the first, one of those groups that I designed and also decided to turn into one of my primary passion projects."
"The first show featured myself, Scooba (who was one of my favorite Respect residents at the time), Dela Moon, and others, and was a great way to kick off the vision. It came from the same idea of noise revolt – pack as much art and creativity into a warehouse space – except this time purely with drum and bass. By the second one in 2016, we were bringing Submorphics out. That party went well and pushed things further to where by 2017 we booked Alix Perez. That was unreal, within three years of starting it we were able to bring in one of the most legendary names we could think of; none of which would have happened without the hard work and support of my partners or the community which formed around Noise Revolt." 
However, operating on the DIY underground side of the entertainment industry can be fraught with turbulence in the most unexpected ways. "The very space we spawned Momentive in ended up being a pitfall, and created a bit of a rough patch for us" he explains. "Ghost Ship in the Bay Area happened and from that point, it became impossible to run a warehouse creative space. We somehow navigated through it, but it really tanked us and halted the strongest point our team had gotten to, and as a result we all had to take some time to decompress and process what that rollercoaster had been."
As with many artists, this became something that changed the trajectory instead of stopping it entirely. "It never left my mind's eye to keep pushing dnb in Los Angeles" recalls Jesta.  "With COVID happening, it gave us much needed time to step back and ask questions like "Is this really working" or "Is this the right path I should be pursuing? All of that led me to a now or never moment, and my decision to turn the brand into a label. Just by bringing out our locals we managed to have a hugely successful launch party;  it was a really big sign to keep pushing forward with it and how important making this happen was not only to us, but to the entire community as well."
Creating and developing a brand is no easy task, yet Chief Jesta has developed one with a clear vision of its identity. "There doesn't seem to be an obvious platform in the states or the west coast that caters primarily, but not exclusively to, the deeper side of bass music," he elaborates. "Out here, it's more common for people to put a splash of it in a set as opposed to it being the main feature of one. In regards to our parties, we like to curate a vibe that is a little less in your face, which creates a different headspace. There's nothing wrong with any other side of dnb, but I have just always felt it surprising how no label or brand out there has curated a sound revolving around the Overview or Flexout pocket of sound out here. We favor that sound the most as it typically has the highest fidelity of bass music around, and that is a key aspect to our goal: we want to always be pushing the most innovative artists who bring the highest quality of sound to the table."     
Throughout all of this, bringing out Monty has been a primary goal. "I first found Monty's music around 2015, and I almost immediately fan boyed out," he reveals. "I found him on social media and told him how epic he is, and we need to get you out here. But the visa thing was such a headache he said it was too much of a risk. Every year since then I would hit him up with "How you feeling about it now," and he always replied with the same answer, "Same as last year." I ended up hearing through the grapevine that a Monty tour was being put together in the states, So I made the move and got him booked with us for an LA date. That was a real bucket list moment for me, as he is one of the top three choices I have for anyone I could choose to bring out."
"Without a doubt, he is one of the best producers in the deep side of bass music, and illustrates the vibe and sound we seek," continues Jesta. "Especially how he consistently makes such high level pristine music that is just really well written and intuitive music.This is an artist that for those familiar with the deep side will fully appreciate what he brings, while anyone not familiar with Monty is certain to gain a lot from this show." 
In addition to Monty himself, the lineup is chock full of Momentive talent; each one giving a different insight into the deep and dark side of the genre: 
Hosted by none other than MC Woes, a true legend and staples of the LA music landscape. Having worked with everyone from Koncrete Jungle to Aceyalone, he has cemented himself as a top tier talent who always deliver the highest quality no matter the genre. Bringing his razor sharp lyrics and inventive chopping freestyle to Momentive, get ready to be blown away as his flow melds with the music in fascinating ways.

 

Nodsy is notorious for delivering serious minimal weapons, blending his unique approach to bass design along with techy shuffles curated to perfection.

 

Forin brings a unique blend of warbling halftime and rolling dnb breaks, effortlessly shuffling between different rhythms that always has you on the edge of your feet.

 

Karmasynk brandishes gritty techy bangers that will blow your ears as well as your mind, reveling in the energy and the subtlety that drums and bass offers.

 

Chief Jesta and Dela Moon are locked and loaded with a dizzying assortment of styles – ranging from the growliest neuro to deep atmospheric workouts, the fusion of their styles in a heavyweight b2b set is not to be missed.

 

Newgent will be gracing us with his trademark grimy beats, wobbly subs, and hip-hop inspired vocal samples, all twisted into a wild heady mix that takes no prisoners.

 

Rosson, founder of Rosson Audio Design and co-founder of PlayMe Records alongside Reid Speed, drops in with his fluid amalgamation of the dark side that is as fluid as it is jagged.
Going down January 21 in DTLA, secure your tickets stat and get ready for a night you will certainly never forget!!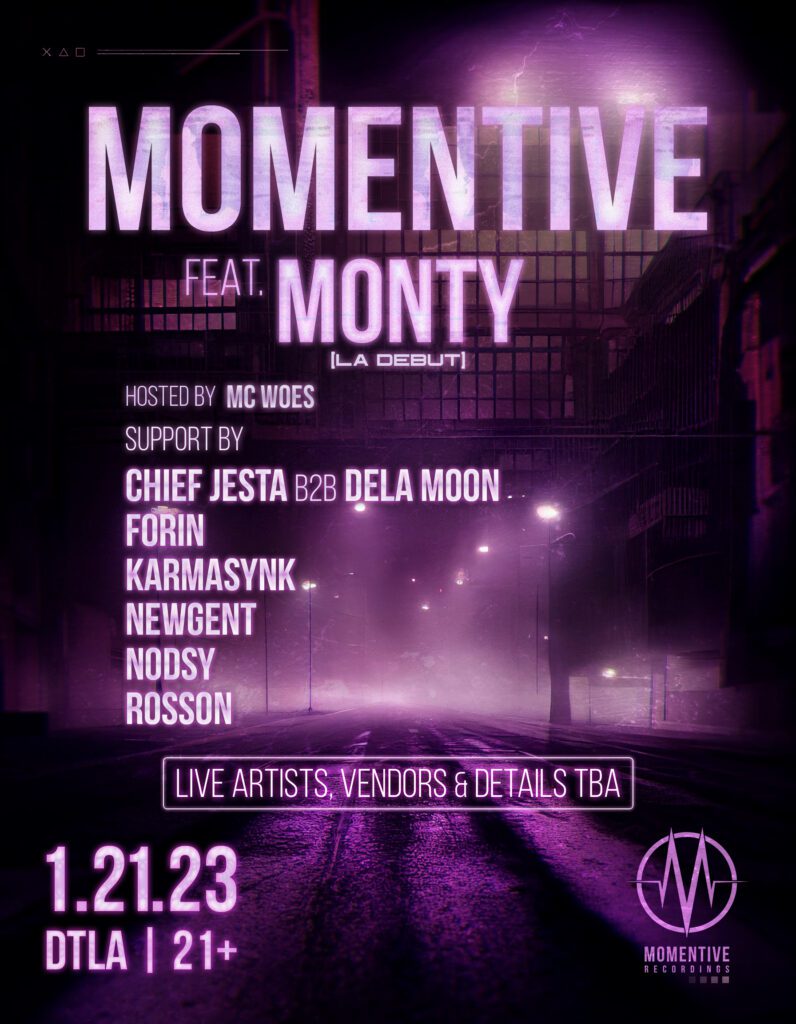 CLICK HERE FOR NOW FOR TICKETS!