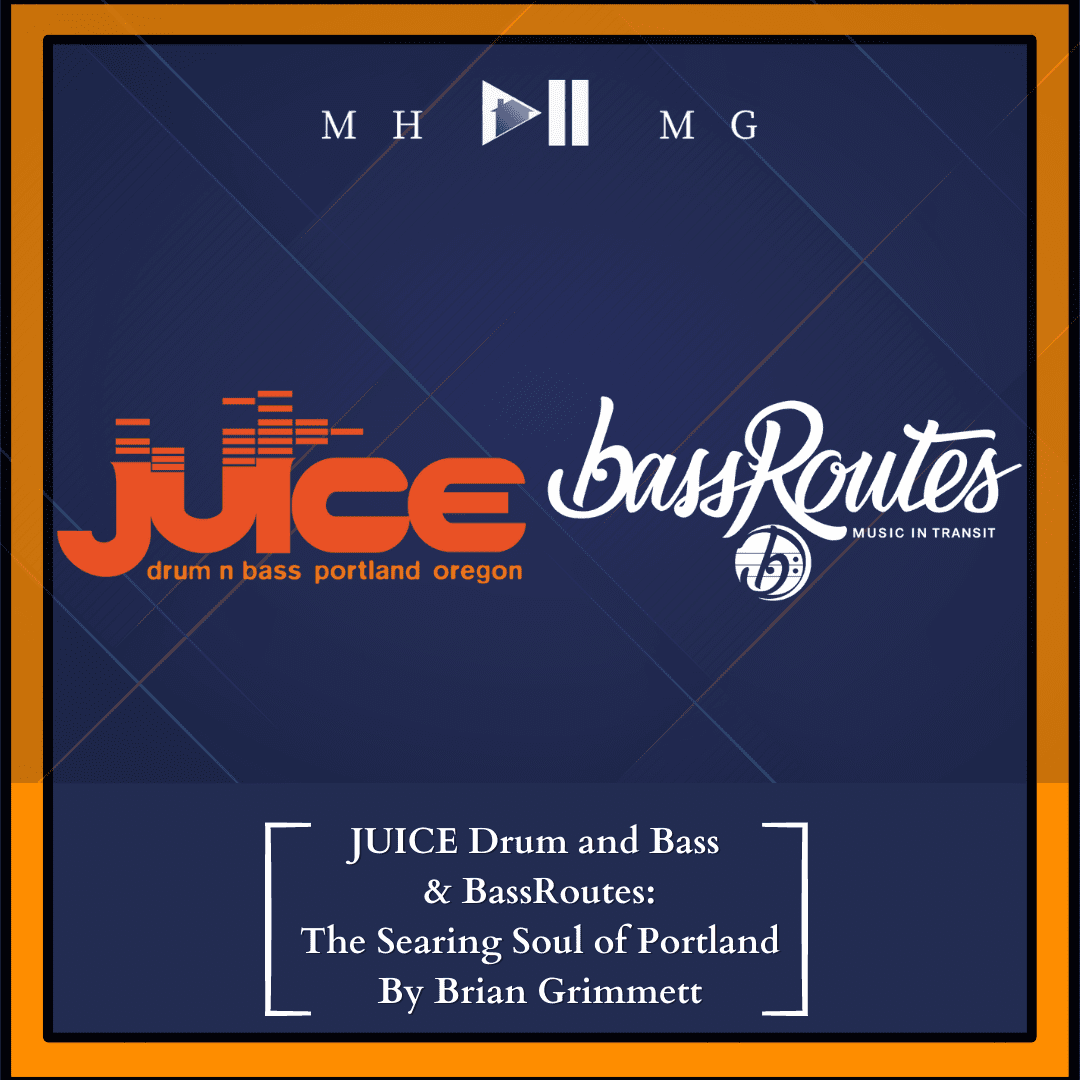 By Brian Grimmett
Running 18 years strong, JUICE DnB has been leading the Portland DnB scene through thick and thin, and continues to steer it into uncharted territory. Founded by Chemynne Perlingieri in 2005, JUICE throws regular events both in person and on their Twitch channel, with an emphasis on the soulful side of the genre. 
Always seeking new ways to push the music and artists forward, BassRoutes developed out of JUICE: an agency with a mission of representing soulful DnB artists, helping to grow their professional opportunities and North American reach. With an eye firmly towards these goals, they have tirelessly worked to create a totally unique platform comprised of growing these two US brands. Nowhere is this more apparent than with their upcoming show in Portland this March 24th, demonstrating in spades the ambition, heart, and stacked lineups that comprise its central goals.
Keeping the music center stage, the lineup for their next show celebrating their 18th Anniversary is a perfect amalgamation of everything that JUICE and BassRoutes represents:
—Artificial Intelligence (UK) are revered for their signature drum sounds, deep soul atmospherics and edgy basslines.
—BCee, founder of Spearhead Records (UK), is well-known for his smooth rollers, crisp jungly beats and flowing sets that hit the heart and the mind in equal measure. Portland is one of eight stops on his first-ever stateside tour (curated by BassRoutes).
—MC Fava (Germany) is a legend in the scene and is set to bring his trademark vocals and energy to the night in combination with an exclusive DJ set.
—PlayMe records label boss Reid Speed (Los Angeles) will shake things up with a heavy dose of the deeper side of the genre and her mad mixing skills on the decks.
—Resident Praderz (US/UK) repping JUICE and Deep Space Records, is a local gem who has smashed Portland stages with his fresh take on DnB and danceable sets.
—Resident MC Questionmark (US/UK) is the evening's host: bringing high-level vibes and positivity to floor and stage—fueling the force that drives JUICE events with his deft flow of lyrical prose.
"JUICE Drum and Bass is dedicated to the deep soulful sounds of DnB since 2005," Perlingieri shared in our interview. "In my 25 years listening to DnB, I always noticed the soulful stuff seemed under-represented. It's really starting to have more of a renaissance now, especially when you consider the contributions of artists like Calibre, Lenzman, Redeyes, Random Movement and Zero T—who have brought so much to the genre overall, and achieved better exposure for it as well. With early influences as a kid to plenty of jazz, soul, disco and funk, I am really attracted to this side of the music. I feel it combines the best of the classics we grew up with, and the best in new dance music now: all wrapped up into what we present at JUICE. I try to stick to that as much as possible with our lineups."
Focusing on the soulful, jazzy and roller side of drum and bass is their approach, with its use of hip hop, soul and R&B samples driving it to new and unique sound territories. "It's inspiring to hear all the soul & disco coming through along with these deep basslines—truly sounds we need to get out to the masses more," she remarks. "This part of the genre is still growing (and is still sometimes overlooked), so there's a real need for industry people to support and push the music. This DnB is pretty much the soundtrack to my life, which is what really drives the effort one hundred percent."
Never shying away from new methods to get the music out there, JUICE also has an active Twitch channel since 2020 that brings a wide assortment of local, regional and international talent to the table on select last Fridays of the month in between Portland shows. Many of these guest artists don't stream, so they offer something really unique on these feature livestreams that you can't find elsewhere. In between those online events, you can find Perlingieri and her husband DJing together hosting "InBetween Sessions" every Tuesday, Thursday and Sunday nights like clockwork.
JUICE DnB's in person shows continue to run on quarterly last Fridays with unwavering resourcefulness of their modest crew, and unflinching support of drum and bass in every way imaginable. Experiences built over many years running JUICE shows coalesced into the growth of BassRoutes Agency. "BassRoutes sprouted from JUICE due to filling a stateside gap, and was made possible by long-term relationships and networking in the industry while securing bookings," explains Perlingieri. "I was starting to hear from more and more artists who wanted to come to the US and were not getting any kind of help, nor getting much response from agencies. These are very well-recognized producers, so I didn't really get why they were not getting respectful professional attention. It started pretty organically from a need that became self-evident in the work I had been doing through our monthly."
"I am in my fourth year now with it and loving it. BassRoutes launched with Command Strange (Kazakhstan/UK) and Redeyes (France), who were wonderful to start with as I had been fans of their music for over a decade. I really wanted to help, but had been juggling full time design work with the daily passion for pushing the music. Something had to give in order to give total energy to drum and bass, so I spent three years slowly retiring design clients while staying super focused on growing BassRoutes. It's been a wild ride with six artists currently on the roster—and I'm learning constantly. It's a lot to juggle at times, but I love that we're growing gently and getting the word out there. My job is never boring, and I feel like I get to incorporate all of my professional skills into one place." The highs and lows experienced in building/operating these organizations has played a pivotal role in shaping how Perlingieri conducts business, with a driving goal of changing things for the better. "I'm just trying to change the formula of some of these relationships, and do my part to be a better human from inside the scene," relays Perlingieri. "Mostly I suffer from giving too much time & energy, but I don't want to change that effort and attention to detail that I bring to the table. Everyone deserves to do business with respectful people, and I think the industry could use more of that."
"There is *never* an email or social media message that I don't answer, whether it be from an artist or a listener. Even if I can't take a client on (and especially for international artists), I always take the time to explain the visa process and expenses, BassRoutes' role in it, etc., even if they're a ways off from coming out to tour. This is how BR started: from building tight connections over years, and then just jumping off the cliff to fly at some point, because I believe in our artists heart and soul…BassRoutes is backed on our mutual hard work."
Keeping everything centered around passion for the music itself is paramount for Perlingieri, despite whatever the challenges it may present: "I am still just driven by drum and bass on the whole, as it has uplifted my life for over 25 years. I put aside a 21 year design & marketing career to do this work full time; purely motivated by a genuine love and appreciation of the music. Obviously I have to sustain the business financially, so I'm working on finding that balance now. I wish I could just float it all on love and kindness! It's really my mission to continue to serve artists with a lot of consideration to their unique needs and future goals. I don't want to be an agent that dictates how things should be done in an ever-changing industry… I see it all as a partnership between agents, artists, promoters and listeners."
The future is full of excitement for JUICE nights, BassRoutes, and Portland itself, which boasts a very strong drum and bass community overall. Stay locked, get involved, and don't sleep on this incoming March 24th show which stands as a guaranteed night for the history books!!
Connect with JUICE Drum and Bass & BassRoutes here:
IG: @juicedrumandbass  /  @bassroutes
Twitch: twitch.tv/juicedrumandbass
FB: @JUICEDrumandbass / @bassroutes
Soundcloud: http://soundcloud.com/juicedrumandbass
GET YOUR TICKETS TO 18TH ANNIVERSARY EVENT NOW!!!